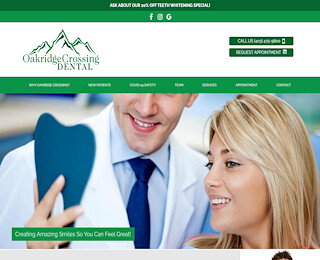 At Oakridge Crossing Dental, you can find a great SW Calgary family dentist. Our dental clinic was designed to provide comprehensive dental care to every member of the family from ages 2-years-old and up. We provide a wide range of dental services, including 24-hour emergency dental care. Oakridge Crossing Dental is now accepting new patients, so call today or stop by our family dentistry office for a tour and meet the team in-person.
When you visit our dental clinic, you will notice that we run a state-of-the-art dentistry clinic. All of our dentists and technicians are highly trained and experienced and willingly participate in ongoing education to ensure that our clinic always uses the latest and most up-to-date protocols, technology, and equipment to provide our clients with the absolute best dental care in Calgary.
Oakridge Crossing Dental is a Friendly and Professional Dental Clinic
Everybody from our receptionists to our dentists and technicians is warm, friendly, and caring, in addition to being highly skilled at what they do. Our goal at Oakridge Crossing Dental is to do what all dentists are supposed to do; to protect our clients' oral health and hygiene in an environment that makes going to the dentist a fun time rather than a dreadful experience.
Kids Are Welcome Here!
All of our staff loves kids! At Oakridge Crossing Dental, we love all people, but we especially enjoy working with children. From the lobby to the dentist's chair, we do everything we can to make all kids feel welcome and at ease. Our staff is always patient with children, and our dentists will take as much time as needed to explain to your children every step of the procedure so that they feel safe.
With kids, most of the work that we do is hygienical and education. Of course, as a SW Calgary family dentist, we usually work with children for many years, often from toddler to young adult. Knowing a child's dental history and establishing good dental habits at a young age can make all the difference when they are older.

We Do it All Here
Whether it's something as simple as a filling or something more serious like replacing teeth with dental implants, bridges, and all kinds of other complex treatments, Oakridge Crossing Dental truly does it all. If we're not able to perform a procedure for a client, we can always give referrals to the region's best oral surgeons and physicians.
Oakridge Crossing Dental is a State-of-the-Art Dental Clinic
At Oak Ridge Crossing Dental, we help our patients with financing, and we accept most insurance. We are committed to providing all of our patients with the highest quality of dental care. Each of our dentists are highly trained and actively participate in ongoing education to stay on top of the best procedures, practices, and protocols - all with the aim of giving our patients world-class dental care.
SW Calgary Family Dentist