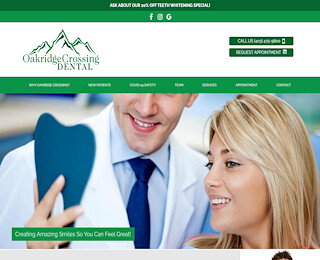 If you are searching for a reputed SW Calgary dentist, you are in the right place! At Oakridge Crossing Dental, we provide a full spectrum of dental treatments for every member of the family in a state-of-the-art dental clinic using all the latest and greatest in modern dentistry technology. We're currently excepting new patients, so come visit our office today.
We Give People Their Smiles Back

A beautiful smile is worth more than words can articulate in both professional and personal settings. A vibrant smile glows with good health, happiness, charm, and personality. Think about it; have you had a long hard look at your teeth lately? Are you happy with your current smile? If not, don't feel alone! A recent Dear Doctor pole found that 80% of us are dissatisfied with our smiles, so there's no need to beat yourself up. It's actually quite normal for your smile to lose its glow over time.
As we get older, our teeth wear and discolor easily. Teeth become chipped and cracked, and old fillings come out. If you're interested in improving your smile, you should see an experienced SW Calgary dentist at Oakridge Crossing Dental. Our dentists are the are among the most experienced in Calgary.
There are Lots of Ways to Enhance Your Smile
This day and age is sort of the Glory Days of the dental industry. There are more ways than in all of history to restore your smile. The means depend on the individual's needs. For example, if you are dealing with teeth that are cracked or chipped, simple tooth bonding could be the answer for you. If your teeth have some minor discoloration and irregularities, tooth whitening and straightening might be all that's needed to give you your long-lost smile back. Crooked teeth may require orthodontics or veneers to straighten them out. How do you know if you need to see a SW Calgary dentist? Ask yourself a few questions:
Do you find the color of your teeth to be unattractive?
Are you teeth chipped, cracked, or excessively wore?
Do you look older than you really are?
Do you see all gums when you smile?
Are you shy about smiling because of your crooked teeth?
Are there noticeable gaps between your teeth?
If you answered 'yes' to any of these questions, communicate the changes you'd like to see to your dentist. It might even help to bring notes detailing your goals as well as photos that show how you have looked in the past and how you'd like to look again. You can also bring photos of your favorite celebrities and say, "I want this smile." We'll do the best we can to make your teeth look the way you want them.
Come to Oakridge Crossing Dental to Find a Great SW Calgary Dentist
As you search for a reliable dentist, keep in mind that communication between you and him is critically important. Your dentist will explain all of your treatment options in detail, estimate how long procedures will take, and of course, tell you how much it will all cost.
SW Calgary Dentist